Stability balls are one of the most common pieces of equipment at just about any gym.
Eventhough they are extremely convenient as they are lightweight, inexpensive and they don't take up much space the benefits go far beyond that. Stability balls can provide a amazing workout for all levels which challenges your balance and core stability.
Stability balls are also extremely versatile. As a personal trainer I love using them. Many of you might think that they are great for ab exercises, but the best thing about the stability ball it how it can be incorporated into all of your exercises, including lower body and upper body exercises. Any traditional exercise that you are use to doing can be made more challenging with the use of a stability ball.
The Stability ball workout can have many benefits. Anyone using a stability ball in their workouts will benefit from:
improved muscle strength and endurance

restored or improved flexibility

enhanced spinal stability

improved balance, posture, coordination and focus

increased engagement of stabilization muscles (1)
Here is a great stability ball workout is geared for the entire body. As summer approaches we want to shed all the winter weight and this workout will challenge your balance, add some difficulty to each exercise to help your body get ready for bikini season. Complete this workout as a circuit, moving from one exercise to the next without rest. Repeat the circuit for 3-4 times.
Stability Ball Split Squat
Stability Ball Squat
Stability Ball Hamstring Curl
Stability Ball Push-Up
Stability Ball Tuck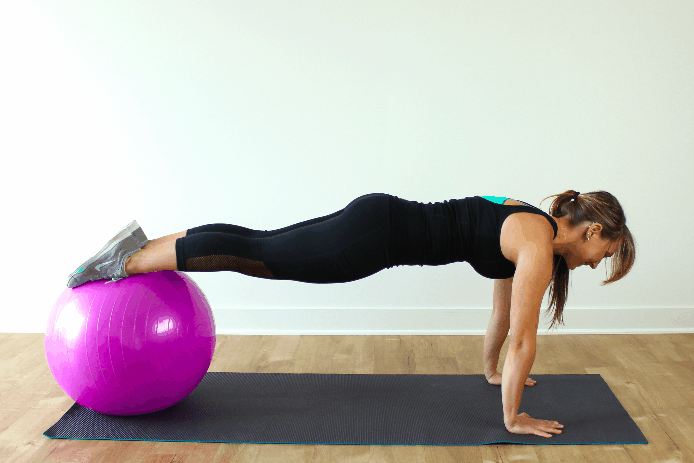 Stability Ball Crunch
Stability Ball Back Extension
All photos courtesy of Paleohacks
#fitness #stabilityballworkout #pavlinatoren #summershredworkout #workout